6 reasons why explainer videos and European projects are a great match.
At Zologie we've created a lot of animated videos in a European context. A lot of explainer videos for European projects too. We've made them for advocacy groups and organizations wanting to convince EU legislators. And for institutions and research groups, to inform the public about their mission or projects, often funded by EU projects. Or for NGOs making their voice heard on topics they fight for.
But what makes animated video stand out? Why is it the perfect tool for organizations working within these European circles? And how can it influence these circles and the EU public in general?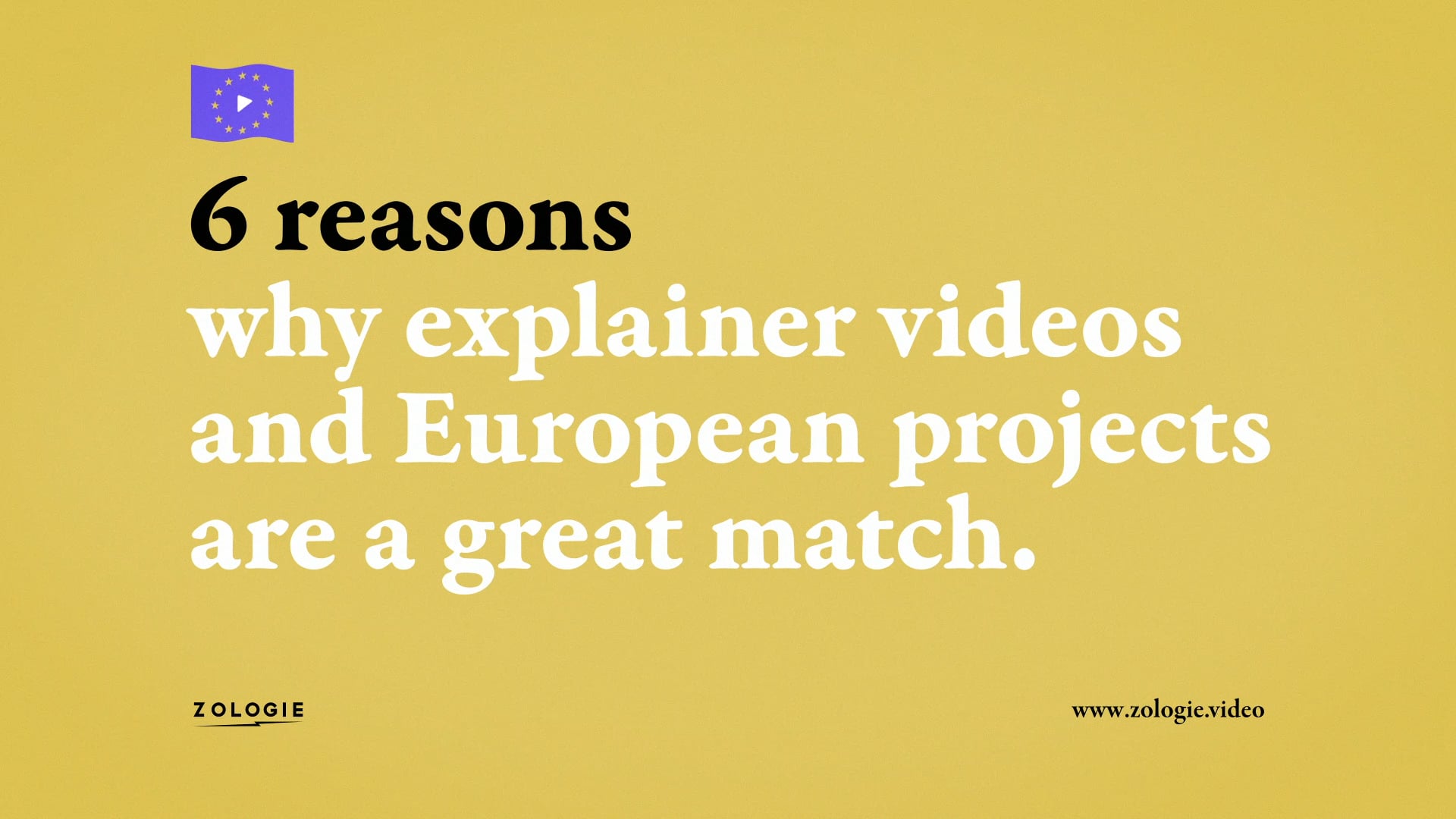 Explainer videos make complex things easy to understand
Very often, complexity is at the core of the topics we are asked to explain in animation, but thanks to good script writing and relevant storyboarding we can tackle the most complex topics and make them easy to understand.
A lot of information in a short time
We create a comprehensive voice-over with matching animated visuals. In about a minute, we can pitch projects, messages and opinions in a very straightforward and understandable way. Informing your target audience fast is key, in the maelstrom of information we have to process on a daily basis.
Animated video is more impactful than text
Studies have shown that audiences register information better when watching video. Let's admit it: it's a lot less boring! Make no mistake. Your audience is ready for video marketing. It's an important part of any marketing mix and a big part of your everyday media consumption. Don't take our word for it, here's all the data.
Visually stand out with animation
Based on the needs and goals of your project, you either go for your own recognisable corporate style or you go for a standalone and distinct look that is tailored to a specific campaign. In any case, you will want to make sure you stand out from the crowd.
European projects are often in need of translations. With animation translations are no problem
Translating animated videos is a great way of creating original native content. In Europe, we have a melting pot of cultures and languages. A lot of people love being spoken to in their native tongue. Animated videos are open for localisation. We can translate on-screen text and combine this with replacing the original voice recording with a new native voice-over. This way the video feels targeted at every target audience individually. This is a strong way of connecting with local audiences.
Another, more cost-efficient option is to use subtitles. It is easy to add any language to your videos with separate subtitle files per language. Most social media platforms will automagically load the correct language based on the viewer's language settings.
Easy to share
Videos are easy to share. Share them on your own channels and in specifically targeted online groups (like professional LinkedIn groups) to efficiently spread them organically. Or boost your videos on social media, gaining audience exponentially.
Want to learn more about the use of explainer videos for European projects? Any doubts on whether or not to implement video in your marketing strategy or just curious about our pricing? Don't hesitate to contact us or request a quote for your project and receive a PDF on how we work and what our pricing is.